Jan 02 2014
Since both my mom and dad are trolling through this blog from time to time and they wonder if we're doing anything.  I thought it might not be a bad idea to try to revive this place with some of our activities.  Today was a "blog worthy" day – here's what happened.
It all started five years ago (according to Joshua).  Back when Hannah was still enrolled in the Kelsey School of Higher Learning, Laura was trying to help the kids bring their etiquette to a higher plain.  If the kids could say "yes, sir" and "yes, ma'am" for one week, she promised to take them bowling.  The kids did their part, but the promise had been unfulfilled.  Until we were in the car to go to Crest Bowl.  Sometimes our promises aren't kept right away.  But we are a patient clan waiting for the fulfillment to come.  Here's how that commitment was satisfied:
Since there was no set schedule we got what I consider a late start. We were at the bowling alley by about 11:00 AM.  They put is at the other end from all the "experienced" bowlers.  All the shoes were mushy and slipped right on (it wasn't until we took them off that the notable smell associated with them was noticed).
We bowled by age, so Nathan was under pressure to be the first one up.  We swarmed around him giving him all kinds of conflicting advice.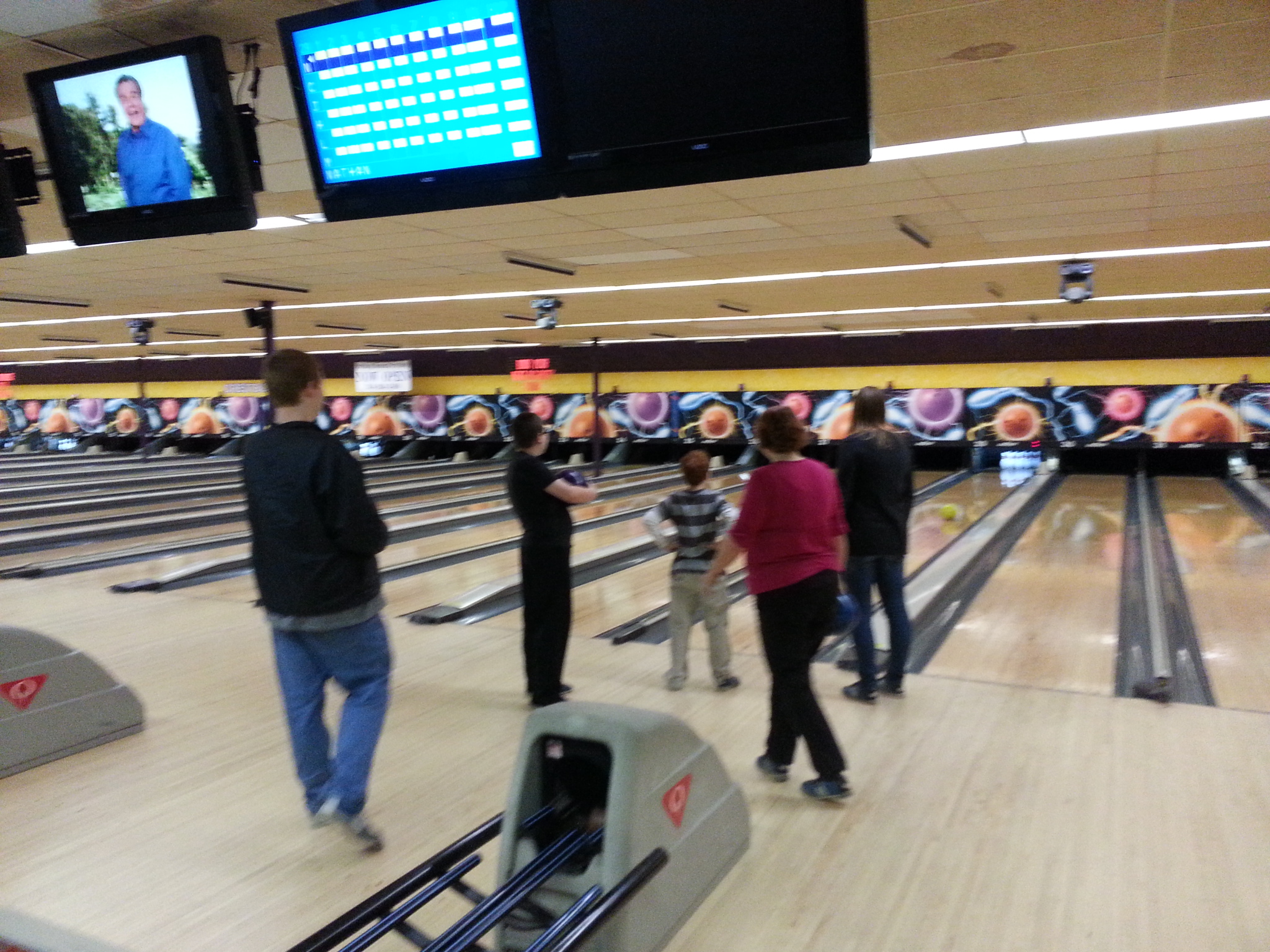 Everybody had their different styles.  Joshua was getting into it.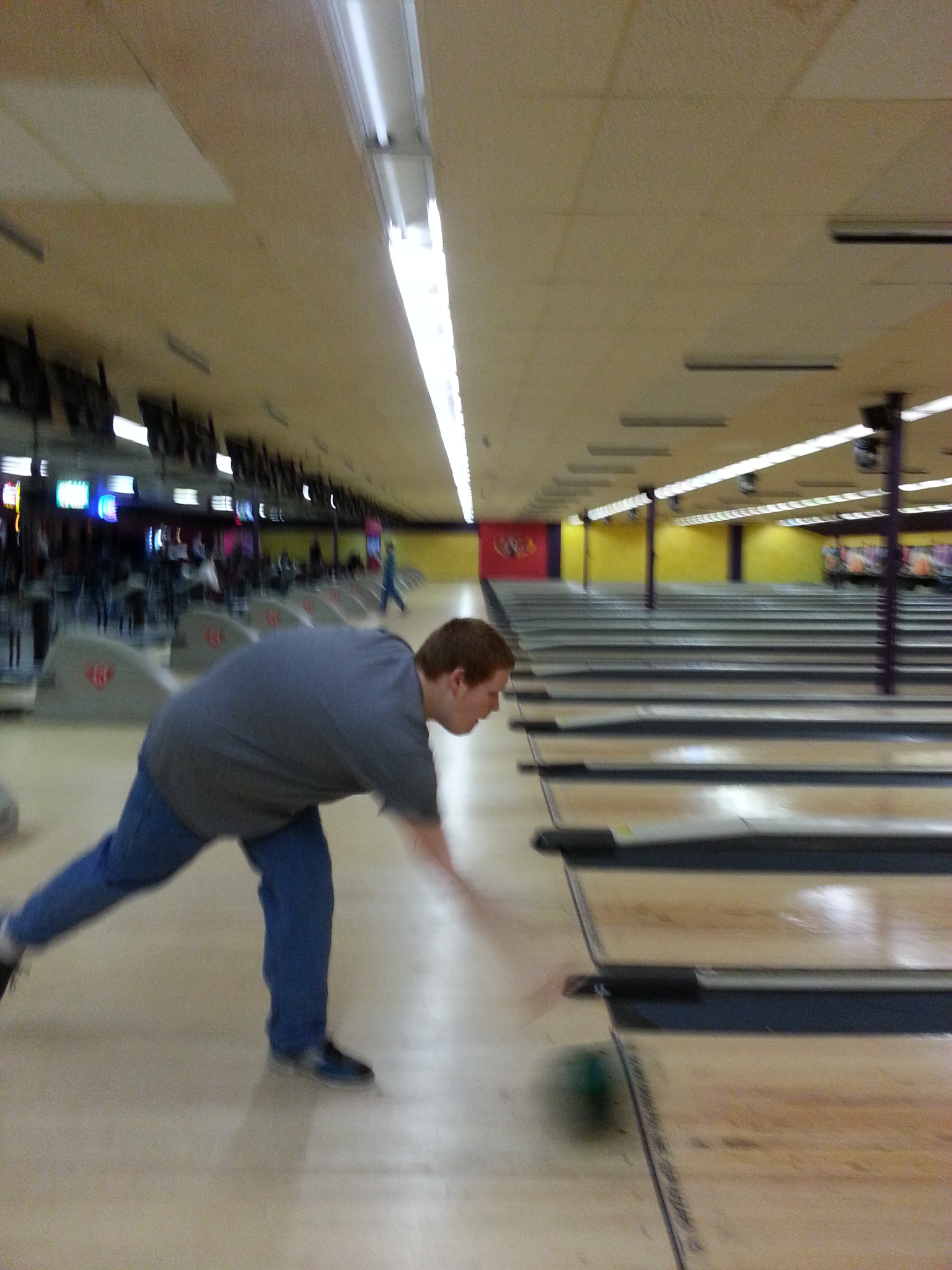 We had a lot of problems with the lane.  Pins in the gutter.  A wobbly 10 pin (often gutter balls on the right would knock that 10 pin over and you'd get a "freebie").  And then Nathan lost his temper and sent a ball down one gutter slow enough that it stopped.  We tried to knock it with another ball with no luck.  Needless to say, we were popular with the staff.  Here's everybody looking to see if the pins would reset.
I even attempted a selfie (still learning) along with Hannah.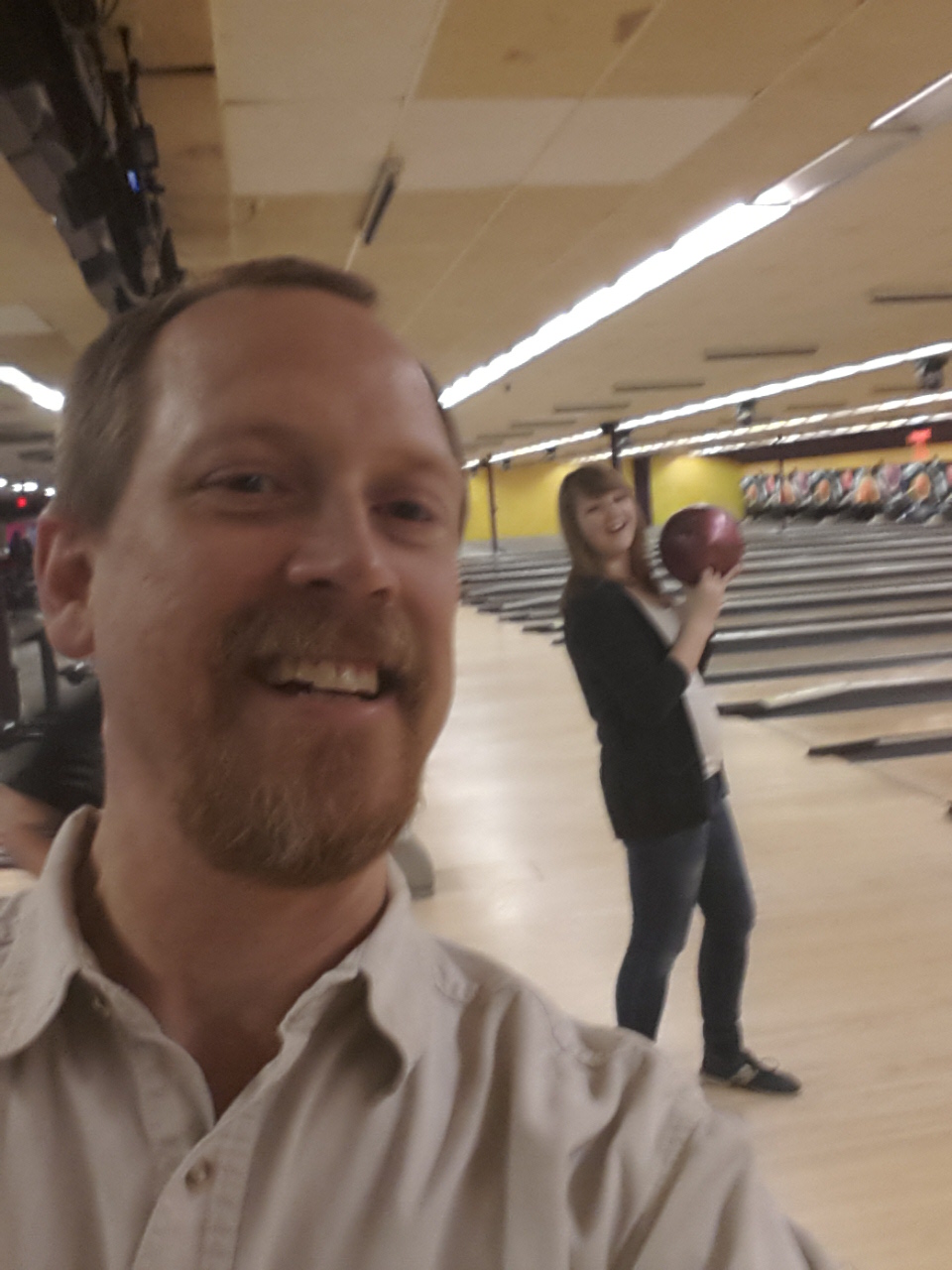 Hannah tried to capture my form – my camera just isn't fast enough for my speed.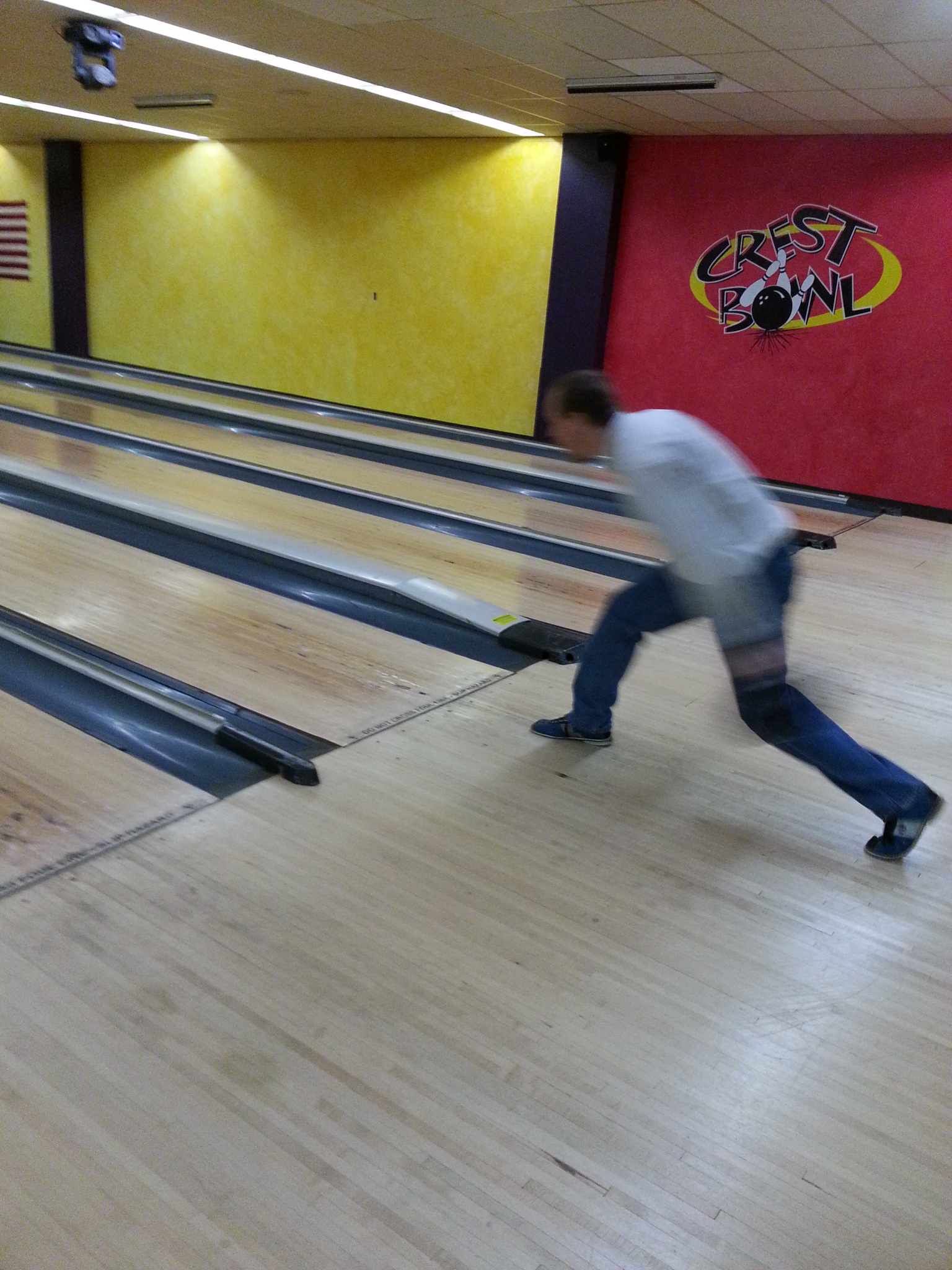 Here's the results of game 1.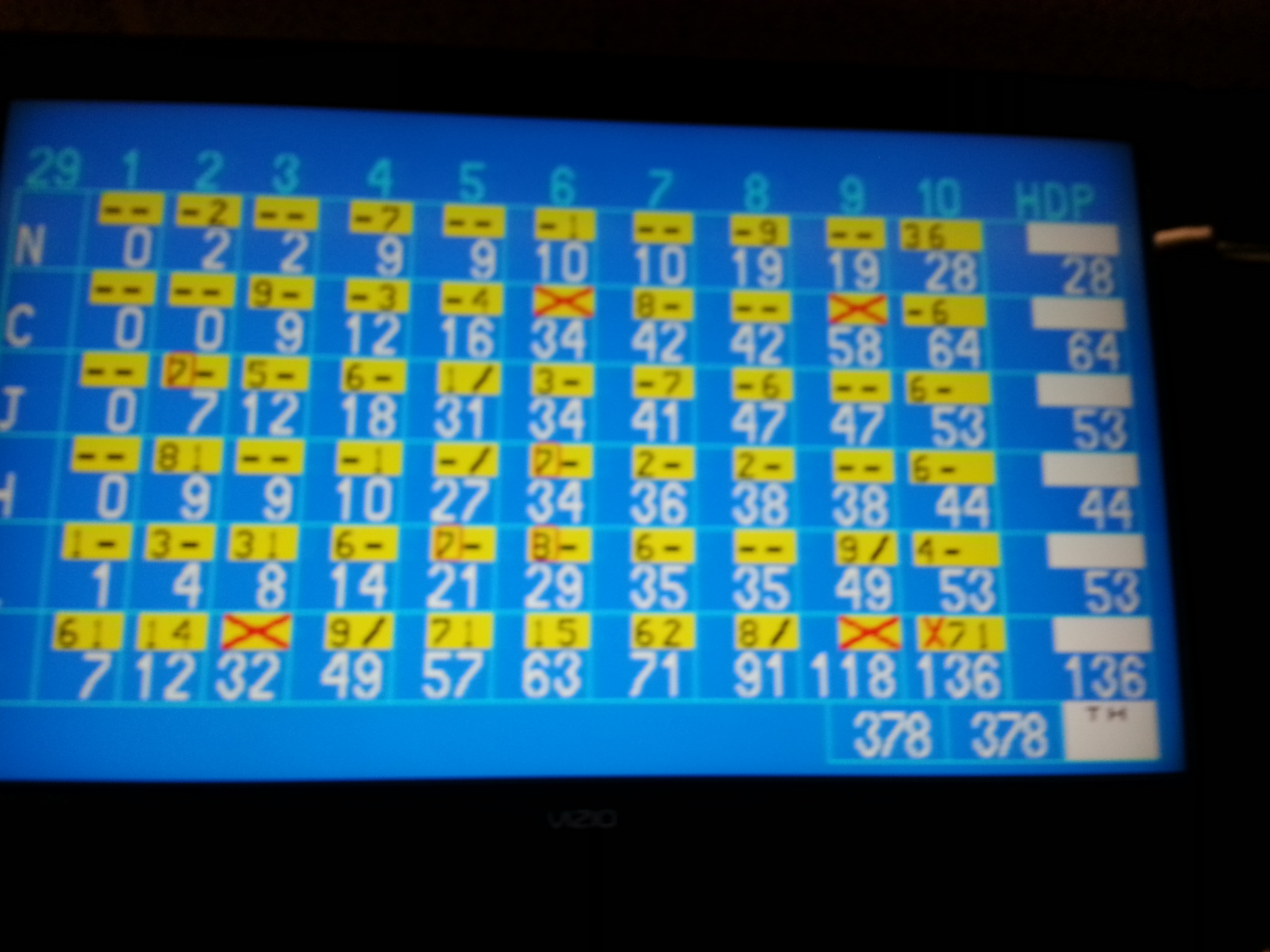 We were all pretty much done by the 5th frame of game 2, but we carried on – here's the result.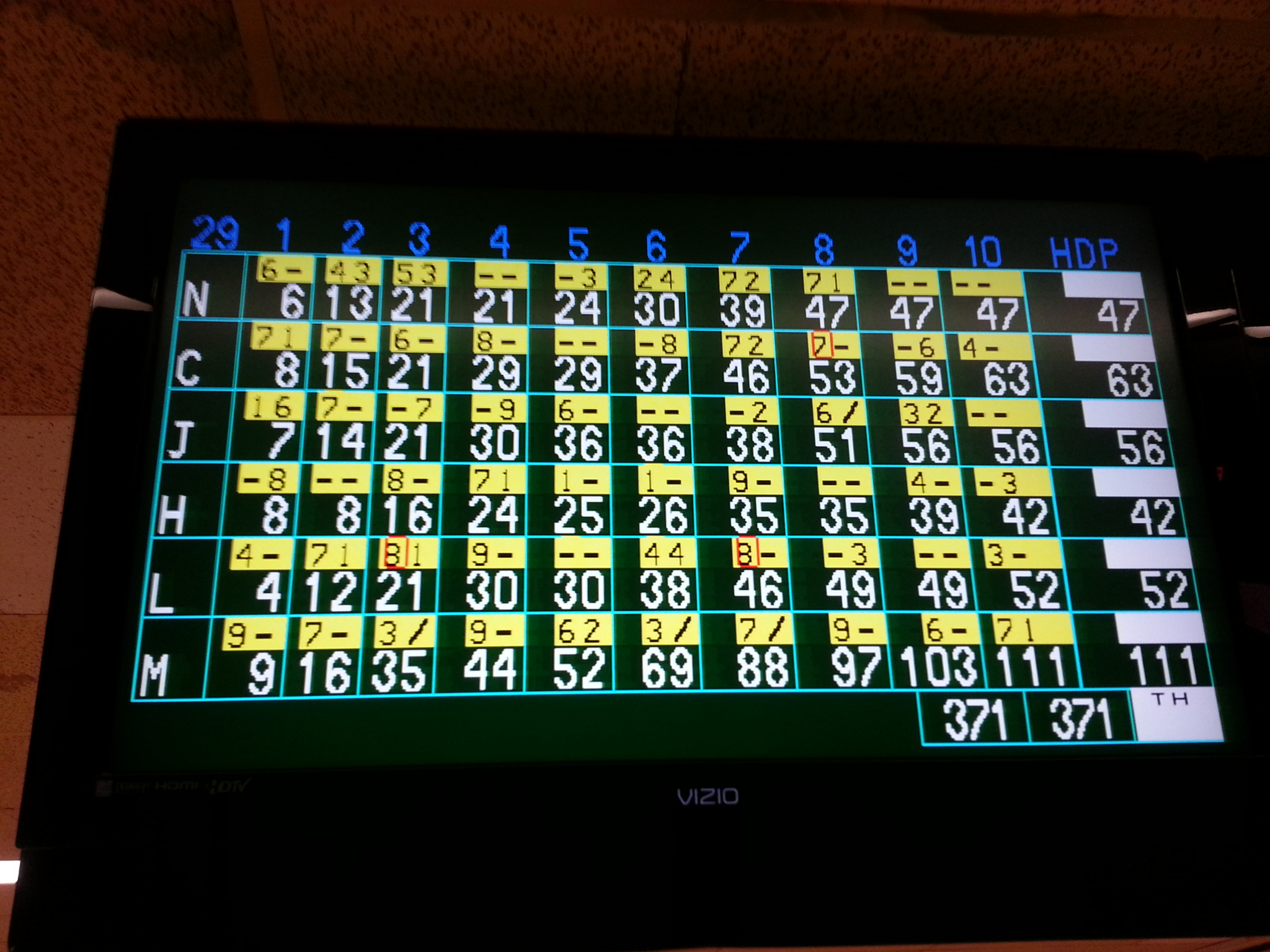 Nathan got upset and quit just before game 2, but after a little bit he came around.  He decided that it was more fun to pick up and deliver each person's ball than to bowl himself.  So we used his turn for practice.  After we were done playing, Hannah showed off her mad selfie skillz.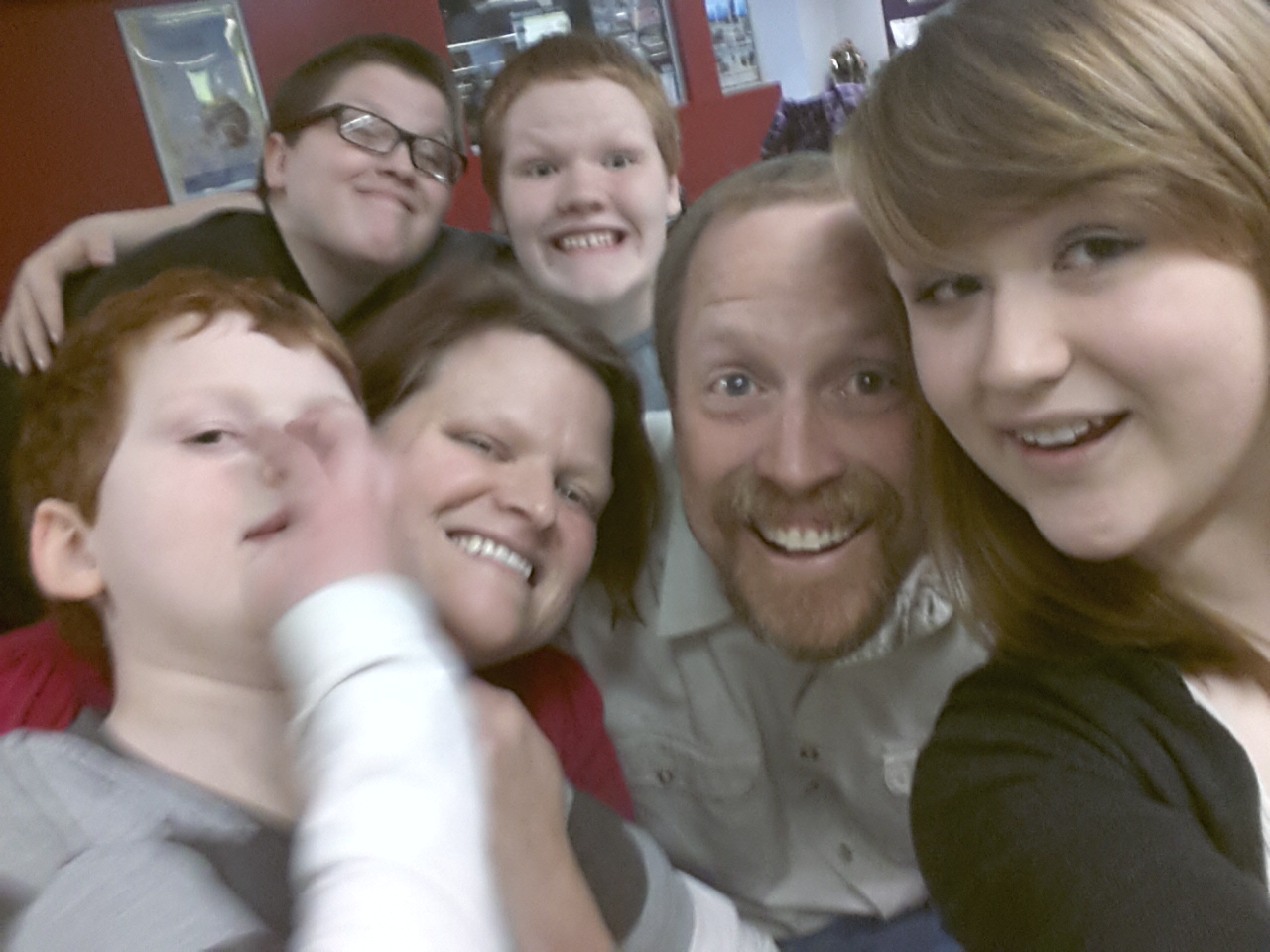 After bowling wore us down.  Joshua had been saving up money to take the whole family out to eat.  It came down to Chili's or Chipotle.  The vote went to Chili's and so we tried to figure out what to get.  Nathan had both grilled cheese and Mac n' cheese – he doesn't get that cheese love from his dad…  Hannah and I had the Guac bean burger.  It was pretty spicy.  I was so thirsty that I think I had 6 strawberry lemonades
After that everybody wanted to take me to vStock since it was unanimous that I would enjoy said store.  And since I don't get out much, I had never been.  We perused the comics, books, videos, and toys.  They had a huge screen with couches showing Dispicable Me 2.  I sat down and watched for a little while.  Closest I've been to a theater since 1991 or so.
Here's a picture of a Christmas alien – it's for sale for merely $6,750.00.  Unfortunately I had only brought $6,300.00 with me.  (By the way, it's the tiny Santa hat that makes him a Christmas alien, not the guitar.)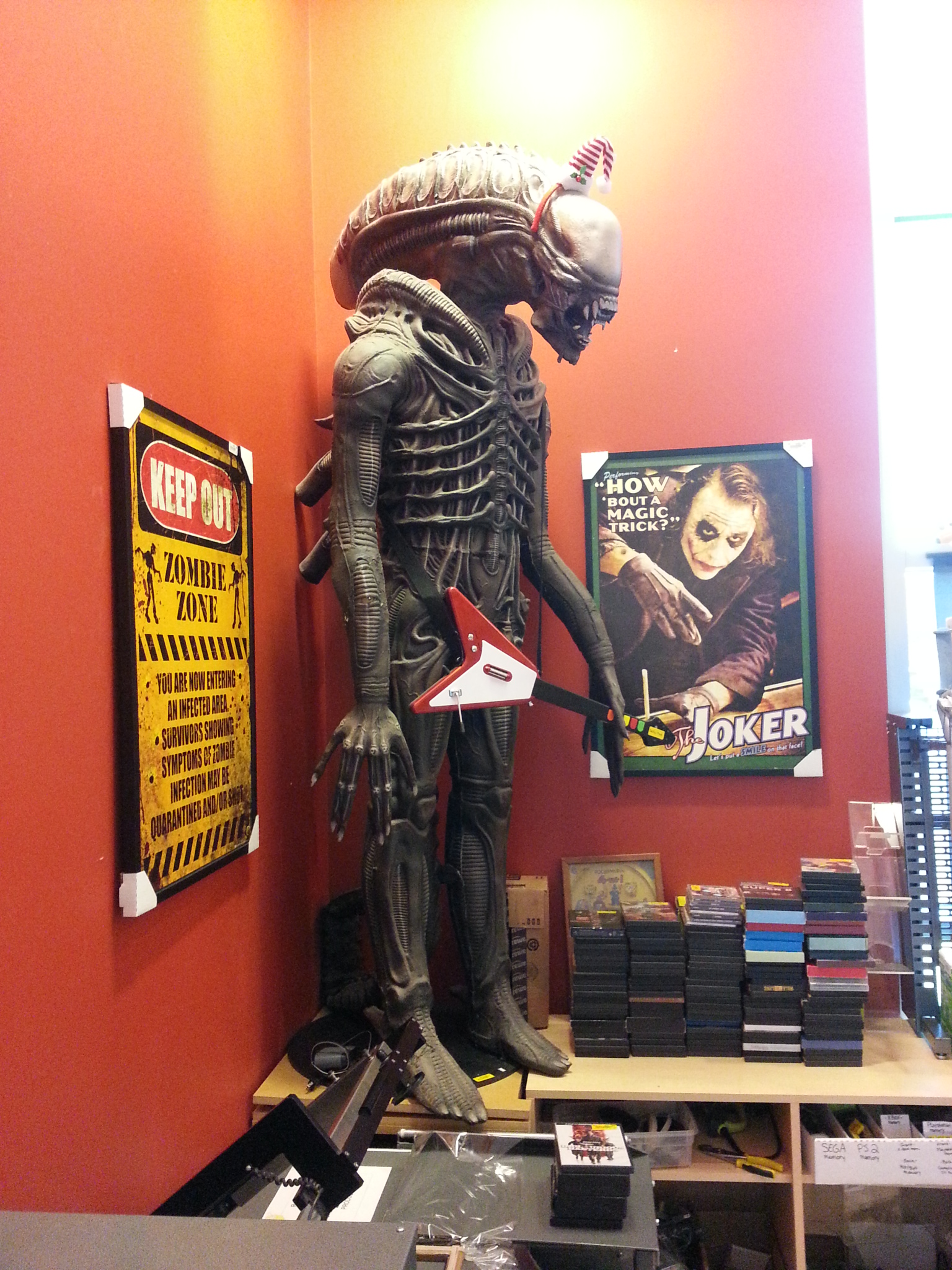 After that long excursion we finally headed home.  And we ended the evening by jamming out to Rock Band.  First it was just Joshua and me.  Then Caleb joined and then Hannah.  I sing, they play instruments – it's really impressive to see those fingers dance along.  It was an excellent day here at the Kelsey's.